Did you ever have one of those nights where you're calling all your friends and nobody's home? Only to find out the next day that you missed the best party ever?
That's what I'm feeling like right now. Not in a personal sense, but professionally. See, besides turning wood into sawdust as a hobby gone bad, I sell equipment for cutting, grinding and polishing polycrystalline industrial diamond for a living. And it's a good thing I don't work on a commission basis or I'd be shriveled up to a hollow husk right about now. The point I'm making though, is that while I'm here in my office attempting to call potential and prospective customers, most of these folks are at a tool show that's so big it only happens every other year.
So why aren't I there too? Basically, sales are so slow for us this year (as they are for very many of our associates, as I understand), we simply can't afford to go. Soooo, here I sit trying to look busy while there's nobody to talk to and try to sell stuff to.
On the lighter side, Smile Moon Woodworks has never been healthier. I've got a custom request I'm working on right now for
JMcGuinness of Etsy.com
, who's a very talented photographer. She and her husband turn some of their photos into greeting cards, and asked me to make a display case for them for local shows. This is actually the second such display I've made for them, the first one looking something like this:
The larger display is still in its infancy, but I'll post photos of it once it's done.
I recently finished a piece for
MrsAgard of Etsy.com
, and if I may so, I think it's one of the nicest pieces I've put together in a long time. She'd requested a prayer box with a removable lid with a cross on it and a slot in the lid for dropping prayer requests into. Here's how it turned out: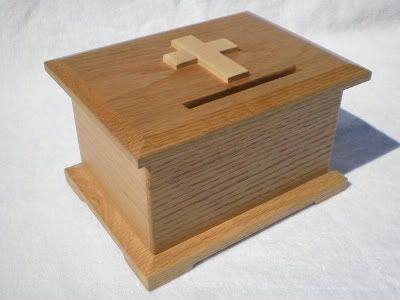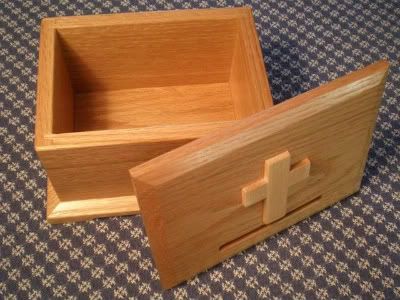 The box was made of 1/2" thick red oak for the sides, 3/4" red oak for the top and bottom, and 7/8" thick rock maple for the cross. Finished size was about 8" long by 6" wide by 5" tall. I finished it with several coats of clear lacquer.
There's a lot more woodworking on the way, too. Oh, and that frinking laptop I told you about last time? Still not straightened out! The fine folks at Dell are one more problem away from being told to kiss my big black butt!! Stay tuned...